May 2, 2021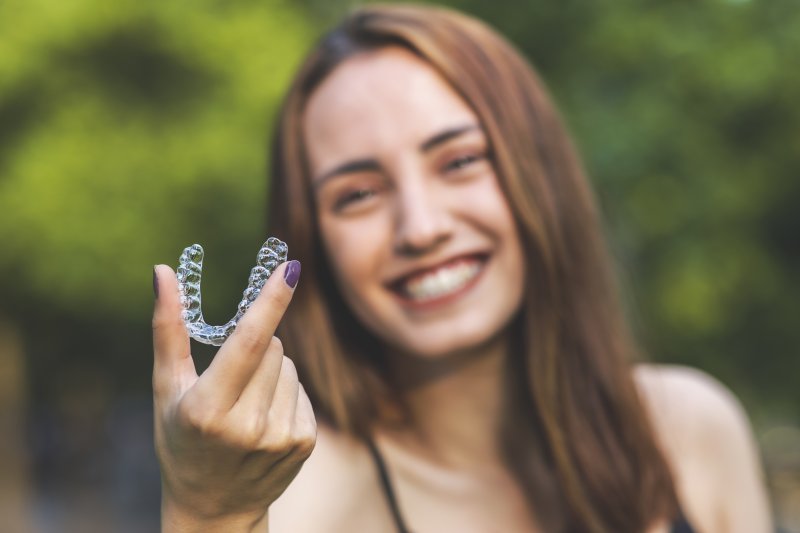 Do you like the appearance of your teeth? One thing that many people are self-conscious of is misaligned or crooked teeth. Fortunately, you no longer need to have a smile full of metal brackets and wires in order to achieve straighter teeth. Instead, you can opt for Invisalign clear aligners. But what if you have dental restorations, like crowns, bridges, or veneers? Is Invisalign still a possibility for you? Read on to find out.
Can You Get Invisalign with Dental Crowns?
With dental crowns, getting traditional metal braces placed can be a challenge. Your dentist would likely need to use different adhesives and ensure that your tooth is strong enough to undergo the pressure of the orthodontic treatment. Because of these reasons, Invisalign is usually a better option for people who have crowns. Invisalign doesn't use any adhesives to stay on the teeth, and it doesn't interfere with eating or drinking since your aligners are removable.
Can You Get Invisalign with Dental Bridges?
Bridges are fixed in place and typically cover the natural adjacent teeth surrounding the gap. Because of this, you may not be able to receive orthodontic treatment. When too much force is applied to your bridge, it can become damaged. However, if your misalignment issues aren't severe and your supportive teeth don't need to be moved at all, this could be a viable option. Otherwise, you might need a new bridge put into place after your treatment.
Can You Get Invisalign with Dental Veneers?
Most of the time, veneers are placed after orthodontic treatment. They are used to change the appearance of your teeth, so shifting them could cause the look of your veneers to be different, so this is something that you need to be prepared for. It can be very difficult to attach metal brackets to porcelain veneers. In the case that they can be fixed together, there is still a risk that the bracket could end up damaging the smoothness of your veneers. Invisalign is usually a better option if you're hoping to straighten your teeth while you have veneers because there is little risk for damaging them since they are not fixed to the surface of the teeth.
Dental restorations don't mean that Invisalign is out of the question. By seeing your dentist for a consultation, you can discuss whether or not the treatment is right for you.
About the Author
Dr. Ukti Phadnis earned her dental doctorate from the UConn School of Dental Medicine. Since she graduated, she is committed to taking continuing education courses to keep her knowledge and skills sharp. She has completed advanced training focused on dental implants, TMJ therapy, cosmetic dentistry, and Invisalign. To learn more about Invisalign or to schedule an appointment at her office in West Hartford, visit her website or call (860) 236-4249.
Comments Off

on Can You Get Invisalign If You Have Dental Crowns, Bridges, or Veneers?
No Comments
No comments yet.
RSS feed for comments on this post.
Sorry, the comment form is closed at this time.