Preventive Dentistry – West Hartford, CT
Proactive Care for Problem-Free Mouth
Thanks to a team with a general dentist, two dental specialists, and hygienists, we at West Hartford Dental Group are able to manage all dental-related emergencies and problems. We, however, encourage everyone to schedule preventive dental appointments to avoid emergencies in the first place. Regular visits for preventive dentistry in West Hartford ensure early diagnosis and management of dental issues and in the long run save time, money, and stress.
Why Choose West Hartford Dental Group for Preventive Dentistry?
Ready to Serve the Entire Family
General & Specialty Services Under One Roof
We Take ALL PPO Insurance Plans
Dental Checkups & Teeth Cleanings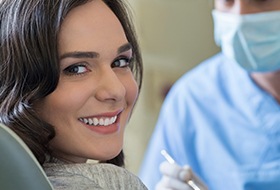 In addition to brushing and flossing at home every day, our team recommends that patients of all ages should attend dental checkups and cleanings every six months. These routine semi-annual appointments allow early diagnosis of cavities that can be treated in a conservative manner. Besides, the professional cleaning will remove harmful deposits around your teeth and ensure the health of your gums and bone.
Nightguards for Bruxism - Teeth Grinding & Clenching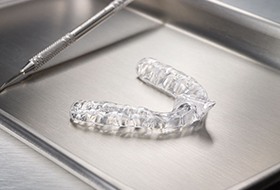 Did you know that 1 in 3 Americans suffer from bruxism? This refers to unconscious jaw clenching and teeth grinding during sleep, and left alone, it can easily lead to sore jaws and broken teeth! To help patients rest easy, we can provide them with a custom-made nightguard. Similar to an athletic mouthguard, this appliance fits over the teeth and prevents them from coming together during sleep.
Oral Cancer Screenings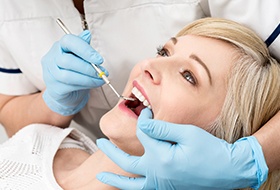 Oral cancer is actually one of the deadliest types, claiming at least one life each and every hour here in the U.S. Early detection and treatment are essential to overcome the disease, which is why we perform an oral cancer screening at every regular checkup. We'll examine your mouth for suspicious sores, growths, and discolored patches of tissue, and if we find anything, we can help you get the follow-up care you need right away.
Fluoride Treatments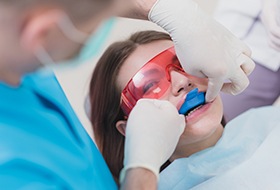 Fluorides help protect your teeth from cavities. This mineral is an active ingredient in many toothpastes and tap water. It interacts with tooth enamel and strengthens the structure, thus preventing or sometimes even treating dental decay. We provide a highly concentrated fluoride gel treatment for adults and kids to keep teeth strong and healthy.
Children's Dentistry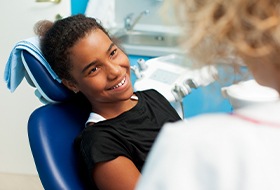 Every single smile in your home is welcome at our dental office, and that includes any growing ones you might have as well. From toddlers to teenagers and everyone in between, we love taking care of children and showing them that dentistry is nothing to fear. We'll treat your child like they are one of our very own, and at every appointment, we'll work to stop tooth decay and instill good oral hygiene habits that will benefit them well into adulthood.
Gum Disease Diagnosis & Therapy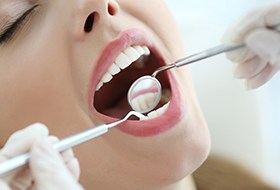 Gum, or periodontal, disease is the most common bacterial infection affects more than 80% of adults over the age of 35, and it is also the number one cause of tooth loss because it primarily attacks the tooth's supporting structure.