Wisdom Tooth Extractions – West Hartford, CT
Specialty Care Right at Home
Most people need to have their wisdom teeth removed because they simply don't fit in their mouth. They are typically the very last teeth to come in, and when they do, they often become impacted or stuck. This can cause pain towards the back of the jaw, put pressure on the nearby teeth, and even lead to an infection. While other dental practices tend to refer their patients to an outside specialist to complete this procedure, at West Hartford Dental Group, we bring the specialist to you! If you or your child are dealing with any wisdom tooth-related troubles, just give us a call, and we'll be able to take care of the problem right away wisdom tooth extractions in West Hartford.
Why Choose West Hartford Dental Group for Wisdom Tooth Extractions?
All Types of Extractions Provided In-House
Sedation Dentistry Guarantees a Comfortable Experience
All PPO Dental Insurance Accepted
What to Expect During a Wisdom Tooth Extraction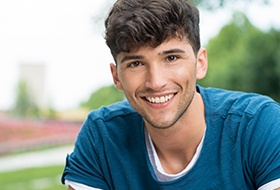 Everything will start with Dr. Phadnis giving a patient an exam. If she determines that the wisdom teeth need to come out, then the extraction will proceed as follows:
First, a patient's mouth will be completely numbed with local anesthetic
Then, a small incision will be made in the gum tissue covering a tooth
If there is any bone still holding onto the tooth, it will be cleared away as well
Then, the tooth itself will be extracted
Finally, the treatment site will be close using self-dissolving sutures
A patient will likely experience a little swelling and bleeding for about three to four days afterward, but in less than a week, they should feel completely normal and be able to resume their regular diet and routine.