Invisalign® Clear Braces – West Hartford, CT
Straighter Teeth without the Metal
Did you not have braces as a child, and now you really want to straighten your crooked teeth? Or, have your teeth shifted over the years despite going through braces when you were younger? In either case, Invisalign can help! This orthodontic system is proven effective and has a subtle appearance your friends and coworkers will never notice, ensuring you're able to smile with complete confidence throughout treatment. If you want straighter and aligned teeth without being noticed, the ongoing orthodontic treatment, give us a call today for Invisalign in West Hartford.
Why Choose West Hartford Dental Group for Invisalign® Clear Braces?
Specially-Made for Every Patient
No Diet Restrictions
Often Able to Work Faster than Traditional Braces
How Does Invisalign Work?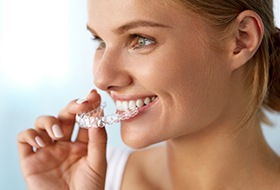 Traditional orthodontics relies on bulky metal brackets and wires to move the teeth, and that's where Invisalign distinguishes itself the most. Instead, a progressive series of clear plastic aligner trays place slight pressure on the teeth to guide them into the proper positions. A patient wears one set of aligners for about 20-22 hours a day for two weeks before moving onto the next. After someone has gone through their entire series, they will see a perfectly straight smile in the mirror.
Why Patients Love Invisalign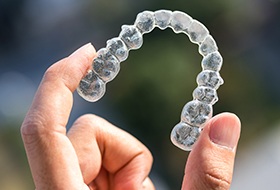 It's easy to see why so many people in West Hartford are choosing Invisalign over traditional braces:
"What Treatment?": Invisalign trays are designed to virtually disappear when worn, meaning they won't affect your everyday appearance. The only people who will know you're using them will be you and your dentist!
Custom-Fit: Each series of trays is designed using a 3D scan of a patient's teeth to ensure the perfect fit. And, because they are made of smooth plastic, patients don't have to deal with the poking wires and irritating brackets of regular braces.
Convenient: Time to eat or brush your teeth? These regular activities can be quite the hassle with metal braces, but with Invisalign, you can just pop your trays off until you're done.
Speed: The average treatment time for Invisalign is shorter compared to regular braces. Depending upon a case, it may take 12-18 months.
Is Invisalign Right For You?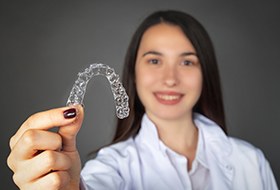 Typically, Invisalign is only recommended for adults and older teens because it does require some self-discipline to consistently wear the trays, plus younger smiles need more time to grow. If you're interested in getting this treatment, be sure to schedule an appointment so we can give you a quick exam. If it turns out that you're a good candidate for Invisalign (which most people are), we'll quickly take an impression of your teeth so your trays can be made right away. To get started on your journey towards a straighter, more attractive smile, give us a call today!