Root Canal Therapy – West Hartford, CT
Hurting Tooth? We Can Help!
Is one of your teeth hurting…like really hurting? Is your toothache so bad that it's causing you to miss work or school? If so, then the problem is likely damaged or infected dental pulp. This is essentially the "nerve" located inside all of your teeth, and problems with it usually cause one main symptom: PAIN. Fortunately, Dr. Phadnis has just the solution: root canal therapy. Despite its dubious reputation, root canal therapy in West Hartford is actually one of the best ways to relieve severe dental pain. Plus, it can save even the most damaged teeth from extraction!
Why Choose West Hartford Dental Group for Root Canal Therapy?
Same-Day Appointments Available
Friendly Team of Dental Specialists
Accept All PPO Dental Insurance
The Truth About Root Canals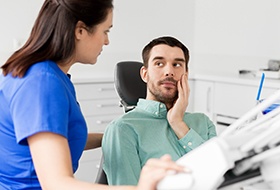 The truth is that modern-day root canals are safe, effective, and virtually painless. So why do so many people think otherwise? It's because the pain associated with the initial dental problem often gets falsely attributed to the procedure itself. At West Hartford Dental Group, a patient is completely numbed at the beginning of the treatment. That way, the patient receives a painless root canal experience when Dr. Phadnis removes the pulp, cleans the tooth, fills it, and rebuilds it with a restoration.