Cosmetic Dentistry – West Hartford, CT
Enjoy Complete Confidence With Every Smile
Are you completely satisfied with your smile? Can you go into any situation, whether it's a job interview or a date, knowing it will make the right first impression? If not, then the team at West Hartford Dental Group can make it so! Whether you're self-conscious about obvious stains, chips, cracks, or gaps, our doctors can make them all disappear using her artistic eye and the treatments detailed below. From a minor touch-up to a complete makeover, whatever you want, we guarantee you'll walk out of our dental office eager to show off the beautiful results. To get started on your road to your dream smile, contact us today to schedule a consultation for cosmetic dentistry in West Hartford.
Why Choose West Hartford Dental Group for Cosmetic Dentistry?
Porcelain Veneers: Smile Like Your Favorite Stars
Teeth Whitening: Get Rid of Coffee, Wine, & Tobacco Stains
Invisalign: Straighter Teeth, No Metal Braces
Porcelain Veneers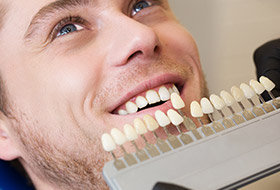 Have you ever considered a smile makeover? Or wanted to have a model-like smile? Porcelain veneers are the answer to it. These this ceramic restorations can be bonded on top of minimally prepared teeth to cover flaws and change the color, size or shape of teeth to dramatically enhance the look.
Learn more About Porcelain Veneers
Metal-Free Dental Restorations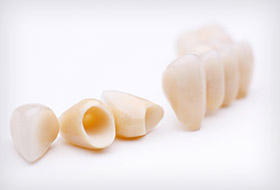 If you have a tooth in need of repair, you don't want to end up with a crown that instantly sticks out in your smile. With metal-free, all-ceramic restorations, Dr. Phadnis can make a damaged tooth look like nothing was ever wrong with it in the first place. This material is not only extremely strong but lifelike as well, able to recreate the appearance of enamel down to the finest detail (including how it reflects light). With this type of crown, only you and your dentist will know where it is!
Dental Bonding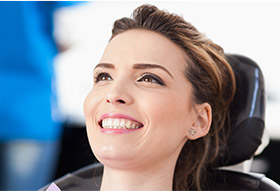 If you have an hour, then you have enough time to get rid of a minor stain, chip, or gap! Direct bonding involves placing a color-matched composite resin directly onto an imperfect tooth. There, it is sculpted to look like a regular part of the enamel and cover up the offending blemish. The entire process only takes about an hour from beginning to end, and better yet, the results can be trusted to look great for a long time.
Teeth Whitening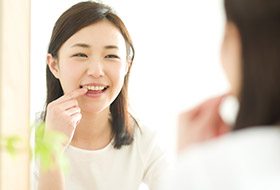 At West Hartford Dental Group, we're able to whiten your teeth in two distinct ways, and both are much more effective than any kit you'll find at the store or online. We can give you a complete treatment right in our dental office that takes about an hour, or we can send you home with your own custom-made whitening kit. Either way, trust to achieve predictable results to achieve a brighter smile.
Learn More About Teeth Whitening
Invisalign® Clear Braces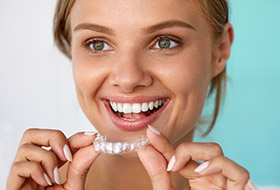 If you're an adult who would like to straighten your teeth, don't worry, you don't have to get metal braces anymore! Instead, with Invisalign, you can obtain the smile you've always wanted while the people around you don't even notice you're undergoing orthodontics. It uses a progressive series of clear plastic aligner trays to move the teeth. Not only are they virtually invisible, but easily removable as well, meaning you won't have to alter your diet or brushing habits during treatment.