Dental Implants – West Hartford, CT
Improve Your Health, Smile, and Confidence with Dental Implants
Over the past two decades, dental implants have quickly become the gold standard for tooth replacement. Instead of just restoring the part you can see, implants go a step further and recreate the root structure of teeth as well. The end result is a prosthetic that looks, feels, and functions just like a real tooth in every way. We can use dental implants in West Hartford to replace any number of teeth.
Why Choose West Hartford Dental Group for Dental Implants?
Dental Implants from Start to Finish Completely In-House
Treatment Plans Personalized for Every Patient
Friendly Team Committed to Providing Comfortable Care
Benefits of Dental Implants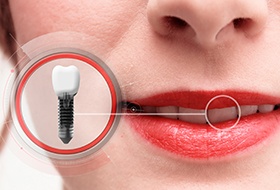 While most other tooth replacements just sit on top of the gums, dental implants actually involve placing a small titanium post into the jawbone to mimic a tooth root, and this provides the foundation for a new crown, bridge, or denture. This two-part approach has a number of unique advantages:
Improvement is function: Patients are able to eat and chew better versus no teeth, almost like natural teeth.
Bone Preservation: After the tooth is lost the bone loses the stimulation to maintain its health and hence there is loss of bone. A dental implant placed in that space provides the stimulation to maintain the bone for longer.
Improved Speech: Dental implants can provide retentive and stable prostheses whether they are fixed or removable. A stable prosthesis and closing all the air escapes help in better and clear speech compared to no teeth or unstable prostheses.
Improved Smile: Replacing missing one or multiple teeth provide life like appearance, which can be customized to adjacent dentition to provide the most natural looking or better smile.
Confidence: Replacement of missing teeth with a restoration which is well supported and secured, patient feel very confident of themselves.
Indications for Dental Implants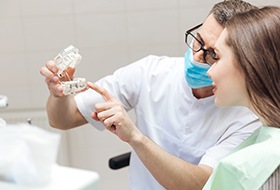 Dental implants are a viable option for people missing any number of teeth. After giving you an exam to make sure your mouth and jaw are healthy enough to support implants, one of the following restorations will be used to rebuild your smile:
Missing One Tooth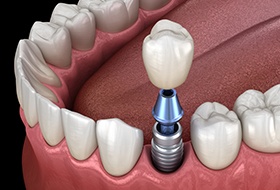 A dental implant root can be placed between two healthy teeth and topped with a crown without disturbing the surrounding dental structure in the slightest. This is much less invasive compared to a traditional bridge in which the nearby teeth have to be shaved down to accommodate the prosthetic.
Missing Multiple Teeth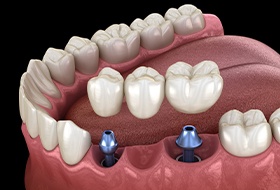 Instead of replacing each tooth with a single implant, a small number can provide support for a bridge or partial denture. Compared to their removable counterparts, implant-retained prosthetics have a more stable fit and have been shown to last much longer as well.
Missing All of Your Teeth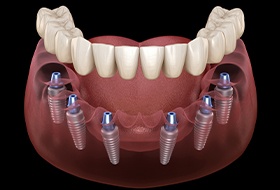 If you are missing all your teeth or they are failing, the implant restorations would be one of your choices. With implants, you could have implant supported removable dentures or implant supported fixed prostheses. These prostheses are better in retention and way more stable compared to prostheses without dental implants. To discuss further how a fixed prosthesis gives you better quality of life and better function. The number of implants required for making such prostheses could range from 2-8 implants depending upon the jaw, site, bone availability, patient's health and finances.
Start to Finish Convenience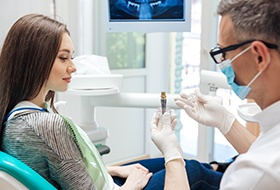 At West Hartford Dental Group, we provide both surgical and prosthetic treatment at our dental office because of the in-house specialists.
Understanding the Cost of Dental Implants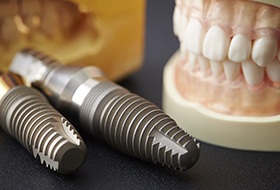 As you can see from the page above, dental implants are quite versatile. We completely personalize our treatment plans based on the needs of a patient, and because of this, the cost of the procedure is always different. The number of implant posts needed, the location of the missing teeth, and the type of restoration used can all make the treatment more or less expensive. If you'd like to know how much you will be expected to pay for implants, be sure to schedule a consultation with us, and we'll give you all the answers you need.
While implants do tend to cost a bit more upfront compared to other treatments, they are an investment that will last for decades long. Add this to the fact that implants offer superior aesthetics and function compared to every other restoration, and you can easily see why they are the most preferred option by our dentists and patients alike!