January 11, 2021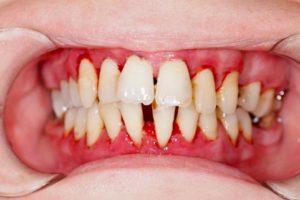 Though it's not as prevalent as it was in the past, recent studies estimate that gum disease (periodontitis) affects nearly 65 million adults in the United States. Periodontitis has four stages: gingivitis (the only reversible stage of gum disease), early periodontitis, moderate periodontitis and advanced periodontitis. The further this condition progresses, the higher your risk of heart disease, stroke and even diabetes. Read on to learn how your gum health correlates to your overall health and what you can do to protect yourself.
Heart Disease
For over a decade, doctors have studied the link between heart health and gum health and found that it lies between the flow of blood throughout your body and the collection of bacteria that lives in your mouth. Any damage to the gums can allow bacteria to enter your blood stream and cause inflammation that can go anywhere in the body, including the blood vessels in the heart. Streptococcus sanguis, a strain of bacteria found in periodontitis and plays a role in the cause of strokes, can spread to the heart and cause infection. If your gums are healthy, the lower your risk of heart disease.
Risk of Stroke
Strokes are caused by blocked arteries or busted or leaking blood vessels. Inflammation caused by gum disease has been found to play a role in the hardening of blood vessels. How does this relate to periodontitis? Researchers have found oral bacteria in the fatty deposits of people with atherosclerosis, a disease that causes a buildup of fats, cholesterol and plaque along the walls of arteries and restricts the flow of blood. Studies presented at the American Stroke Association's International Stroke Conference revealed that gum disease has been linked to a higher rate of strokes resulting from the hardening of large arteries in the brain.
Pulmonary Disease
Gum disease causes gum recession, which is when the gums pull away from the teeth creating pockets where infectious bacteria build up. If the bacteria get into the bloodstream, and travel to any part of the body. Studies show that infected, swollen gums can trigger increased inflammation in lung diseases like chronic obstructive pulmonary disease (COPD) and asthma.
How to Fight Gum Disease
When caught early, gingivitis can be reversed with regular cleanings from your dentist and proper dental care at home. This includes brushing for two minutes twice a day and flossing at least once. If your condition has progressed, your dentist may recommend scaling to remove plaque and calculus (hardened plaque) from below your gum line. Root planing will smooth rough areas on the roots of the teeth to reduce the ability of bacteria to become lodged in them.
Poor gum health can be expensive and put your health at risk. Practicing proper oral hygiene and visiting your dentist at least twice a year will help keep both your mouth and body healthy while brightening your smile.
About the Author
At Wethersfield Dental Group, Dr. Ukti Phadnis offers personalized, comprehensive dental care to patients of all ages. She received her Doctor of Dental Medicine degree from the University of Connecticut School of Dental Medicine and continues her education with courses in a wide variety of specialties. Dr. Phadnis' services include preventive dentistry, gum disease therapy and more. If you are ready to get your gum health back on track, contact the office at (860) 400-3007 or visit the website to schedule an appointment.
Comments Off

on How Gum Health Affects Your Overall Health
No Comments
No comments yet.
RSS feed for comments on this post.
Sorry, the comment form is closed at this time.