January 4, 2021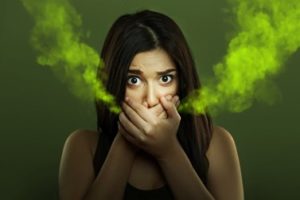 At one point or another, everyone experiences bad breath. Waking up with a mossy mouth is very common, especially with how fast oral bacteria multiplies while you sleep. But if your morning breath lasts well after brushing your teeth, it may be time to consult your dentist. Halitosis or chronic bad breath can be caused by many different factors. Keep reading to find out what may be causing your bad breath and how your dentist can help correct it.
Typical Causes of Halitosis
Bad breath can be the result of problems that reside on the inside or outside of the mouth. Oftentimes, it is caused by plaque and bacteria buildup on the tongue or teeth, but it can also be the result of gum disease. Here are a few other elements that can contribute to halitosis:


Dry mouth
Tobacco use
Medication
Leftover food particles
Poor oral hygiene
Foreign body trapped in the nasal cavity
Mouth, nose and throat diseases
Liver Failure
How to Detect Your Own Bad Breath
Studies show that about 30 percent of the population have halitosis, but many don't know it. You could ask someone you trust to tell you if your breath smells fine or if it's not very fresh. If you prefer not to ask someone to diagnose your breath, you could ask your dentist to perform a halimeter test. This test measures your volatile sulfur compound (VSC) level, which is caused by an overgrowth of bacteria in your mouth or bowels. You can also purchase your own halimeter test; but before you do, it's a good idea to ask your dentist to recommend one. If asking others to tell you whether you have bad breath, another more private and less scientific option is to simply lick the back of your hand, let it dry, then smell it.
How to Treat Bad Breath
Brushing and flossing regularly, keeping dentures and clear aligners clean and avoiding pungent food choices like onions or garlic can help you minimize or even eliminate bad breath. If you have chronic bad breath, your dentist can evaluate your medical and dental history, perform an exam and run a few tests to identify the underlying problem. Once they find it, they will create a plan of action to resolve it.
Everyone worries about how their breath smells. If you believe you may have halitosis or chronic bad breath, you do have options. If nothing you do at home seems to be working, schedule a visit with your dentist so they can help you have fresh breath again.
About the Author
Dr. Ukti Phadnis and her team at West Hartford Dental Group distinguish themselves from other dental offices by making a point to empower their patients with dental education and making them active participants in their own dental care. With Dr. Ajay Dhingra, a board-certified Prosthodontist on staff, Dr. Phadnis and the West Hartford Dental Group are able to provide a wide range of dental treatments, including preventive dentistry, dental implants and more. If you need help getting your halitosis under control, visit the website or contact the office at (860) 236-4249 to schedule an appointment.
Comments Off

on Bad Breath? Here is What Causes It and How You Can End It
No Comments
No comments yet.
RSS feed for comments on this post.
Sorry, the comment form is closed at this time.