November 16, 2020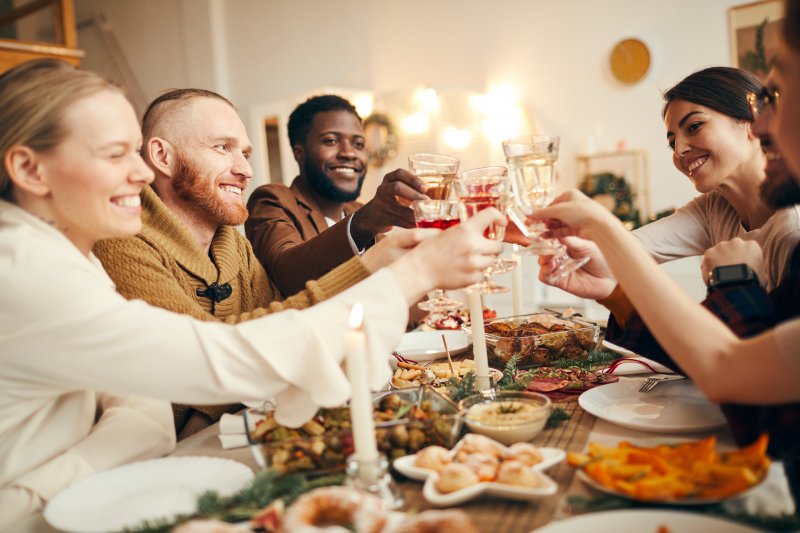 If the time of year that we have all been waiting for. You get a little bit of extra time off work, you're seeing more of your family, and even breaking out the old recipe book for homecooked meals. However, this season is not so great for your smile. In fact, many people end up needing dental work done in the new year. Continue reading to learn why the holidays are so harmful for your oral health and what you can do to keep your teeth in good shape just in time for the new year.
Why Is the Holiday Season So Bad for Your Teeth?
There are multiple things that come along with the holiday season that don't have a good effect on your oral health:
Too Much Sugar: The holiday season has its fair share of sugary treats. The issue is that your teeth are much more likely to develop cavities when they are exposed to large amounts of sugar. This is because sugar turns to acid in the mouth which softens your protective enamel. Bacteria-filled plaque will then eat away at the enamel and leave behind decay.
Lots of Snacking: There are plenty of delicious meals throughout the holiday season, and many of them seem to be all day events with plenty of leftovers. This means that you may end up heating up an extra plate of food between meals. Instead of doing this, try to stick to a few balanced meals each day so you can give your teeth time to rest between them.
Lack of Routine: During this time of year, many people fall out of their normal routine of healthy eating and excellent oral hygiene because they are distracted by their holiday plans and traveling. It is important not to slip up!
Ways to Keep Up Good Oral Health During the Holidays
In order to keep your smile in good shape, do the following:
Maintain Oral Hygiene: Brushing twice and flossing once each day is necessary for optimal oral health.
Drink Water: Water helps to wash away food particles and neutralize harmful acids in the mouth.
Eat Healthy: Save a large portion of your plate for turkey, veggies, cheese, nuts, and other healthy foods.
Avoid Sugary and Acidic Foods: Wine, candy canes, and other treats should be kept to a minimum.
See Your Dentist: If it's been a while since you've been to the dentist for a cleaning and checkup, now would be a great time to schedule an appointment.
You don't want to be spending extra time in the dental chair. By using the tips above, you will be able to keep your smile strong and healthy in the coming weeks!
About the Author
Dr. Ukti Phadnis earned her Doctor of Dental Medicine from the UConn School of Dental Medicine and is committed to completing continuing education courses focused on a wide variety of different treatments. For more ways to keep your smile healthy this time of year or to schedule an appointment with Dr. Phadnis at her office in West Hartford, visit her website or call (860) 236-4249.
Comments Off

on Are the Holidays the Worst Time for Your Dental Health?
No Comments
No comments yet.
RSS feed for comments on this post.
Sorry, the comment form is closed at this time.