September 23, 2020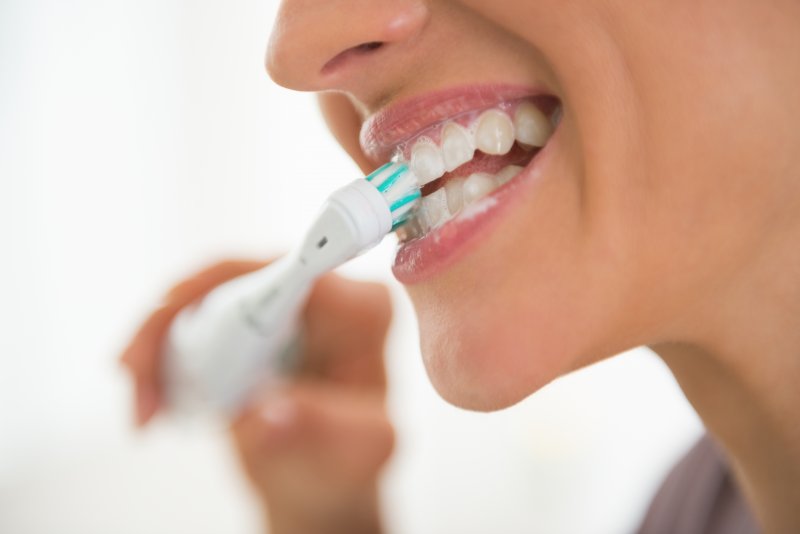 Do you brush your teeth twice and floss once every day? That's great, but it doesn't mean that you are excelling at your oral hygiene routine every day. Even some of the most diligent brushers are making some common teeth cleaning mistakes that could be costing them their oral health. If you aren't cleaning your teeth properly, you could be on a path towards tooth decay, gum disease, or other issues. Continue reading to learn more about the most common teeth cleaning mistakes and how you can correct them.
Not Brushing Enough
If you are only brushing your teeth once a day, you are leaving more plaque on your teeth and along the gumline. Eventually this can lead to issues like tooth decay, gum inflammation, and periodontal disease. When this becomes advanced, you could even suffer from loose teeth and tooth loss. Make sure you're brushing your teeth at least twice a day as the American Dental Association recommends.
Ignoring the Gums
In addition to brushing your teeth, you should also gently brush your gums with a soft bristled toothbrush to reduce inflammation. You do not want to use too much pressure because this can cause gum damage and recession.
Too Many Whitening Products
Even though some whitening products, like toothpastes, strips, and rinses, can help to keep your teeth white, you should use them with caution. These products are often highly abrasive and can damage the protective enamel of your teeth over time. This can increase the sensitivity of your smile. Remember to be careful when choosing whitening products. The best thing you can do is ask your dentist for advice.
Using an Old Toothbrush
Did you know that you should be switching out your toothbrush approximately every three months? When the bristles become frayed over time, they become less effective at cleaning your smile and leave more plaque behind. Check the bristles on your toothbrush to make sure they are still in good shape. If not, it's time to toss it.
Brushing Too Hard
If you aren't brushing hard enough, you are more likely to experience decay. However, if you are brushing too hard, you can damage your protective enamel and even wear away your gum tissue. Make sure that you always use a soft-bristled toothbrush and use proper technique so that you don't hurt your smile.
Not Flossing
If you aren't flossing daily, plaque easily find their new home between your teeth. Eventually, this will cause additional cavities and gum disease. When you floss, be careful not to snap too hard because you could contribute to bleeding, gum recession, and periodontal disease.
Wrong Mouthwash
Mouthwashes and rinses have plenty of oral benefits, but you need to be using the right one. If your mouth tends to be dry, choosing a mouthwash that contains alcohol can make this worse. Check with your dentist to see which mouthwash they'd recommend for your unique needs.
Skipping Dental Visits
If you're like most people, seeing your dentist every six months is ideal. For others, like woman who are pregnant, it is recommended to give your dentist a visit even more often. However, there are many people out there who only head into the dental office if there is an emergency. For optimal oral health, having regular checkups and cleanings is a must.
When you're taking care of your teeth, remember to avoid the harmful mistakes listed above. By maintaining a good oral hygiene routine, your smile will thank you.
About the Author
At West Hartford Dental Group, you have both a general dentist and prosthodontist under one roof. Dr. Ukti Phadnis obtained her Doctor of Medicine in Dentistry from the UConn School of Dental Medicine. Dr. Ajay Dhingra completed his certificate program in Prosthodontics with a master's degree in Oral Biology from Rutgers University School of Dental Medicine. For more information on proper oral hygiene or to schedule an appointment, visit their website or call (860) 236-4249.
Comments Off

on 8 of the Top Oral Hygiene Mistakes
No Comments
No comments yet.
RSS feed for comments on this post.
Sorry, the comment form is closed at this time.