May 27, 2020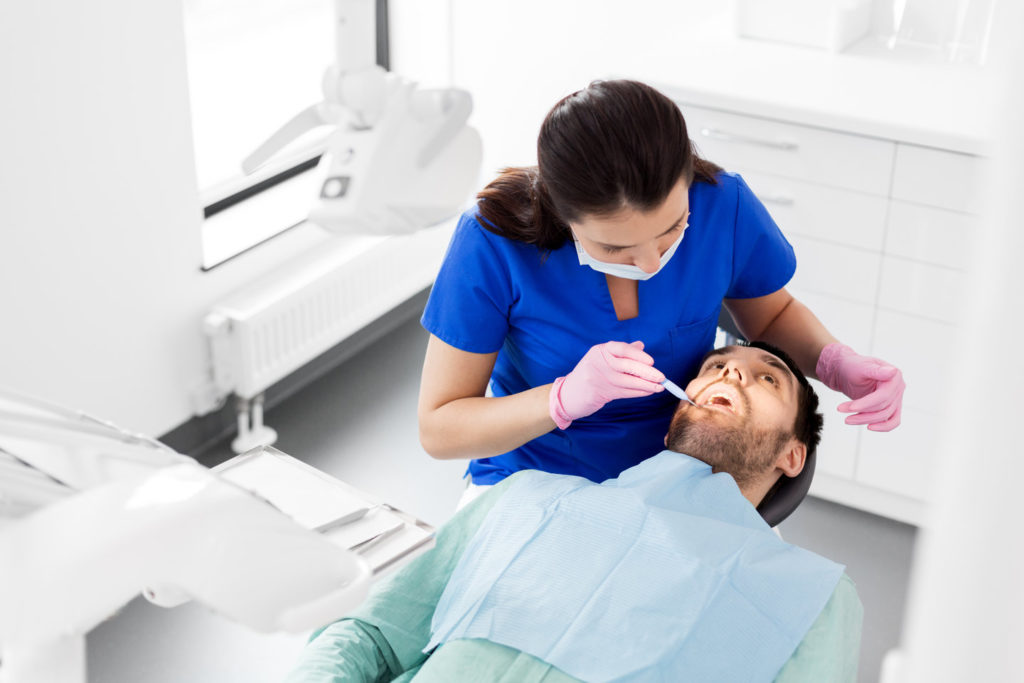 A routine dental exam is great for more than just finding signs of cavities and tooth decay. Many diseases have noticeable effects on the quality of your oral health. These effects become obvious to your dentist when they are inspecting your teeth and gums. What follows are just some of the problems they can warn you about during your next preventive care visit.
Crohn's Disease
This gastrointestinal disease affects two million people in the US. It has significant effects on your oral cavity, including dry mouth, canker sores, inflamed gums, and growths on the insides of your cheeks similar to skin tags. If you suffer from an upset stomach or intestinal discomfort in addition to these symptoms, your dentist will recommend visiting your doctor for a proper diagnosis.
Diabetes
Diabetes makes it difficult for your body to manage its blood sugar levels. Individuals with this disorder will have more glucose in their saliva, making it easier for the bacteria in their mouths to grow and cause tooth decay. Your gums also become more open to infection, which causes visible inflammation.
Diabetes also leaves your mouth vulnerable to a fungal infection known as oral thrush. If you have it, your dentist will see white patches on the insides your cheeks and on your tongue.
Osteoporosis
If you tell your dentist that your teeth are loose despite taking good care of them, they may suspect that you are suffering from osteoporosis, a disease that causes your bones to become weak. They will need to take an X-ray to confirm the condition of your jawbone before recommending that you seek treatment with a doctor.
GERD
Gastroesophageal reflux disease causes your stomach acids to move back up your esophagus, damaging the tissues in the back of your throat along with the enamel on your molars. This damage will be easily noticed by your dentist during a routine exam.
Stress Related Issues
Mental health issues can also manifest inside your mouth. Chipped or eroded teeth can be the result of intense clenching and grinding that occurs during long periods of stress. This is a condition known as bruxism, and it happens to many people while they sleep. If left untreated, teeth can become loose or break open entirely. Your dentist will recommend the use of an oral appliance if he notices the behavior is weakening your teeth. This device will absorb the forces caused by clenching and grinding and protect the surfaces of your teeth.
Attending regular preventive care visits does more than keep your teeth and gums clean. It allows your dentist to warn you about problems that might be developing in other parts of your body. With early detection, you can stop them before they do significant damage.
About the Author
Dr. Ukti Phadnis believes in a proactive approach to dentistry. She provides patients with thorough dental exams so she can catch and fix issues quickly. If you would like to know about the quality of your oral health, you can contact her for a teledentistry appointment through her website.
Comments Off

on How Your Dentist Can Protect Your Whole Body
No Comments
No comments yet.
RSS feed for comments on this post.
Sorry, the comment form is closed at this time.