April 20, 2020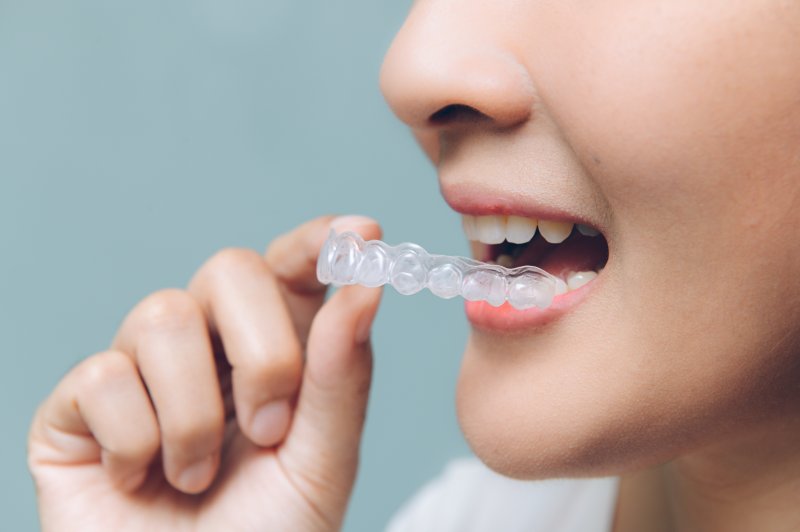 These days, it seems like you can't turn on the TV without seeing an advertisement for some form of DIY clear aligners. They promise to do the same job as traditional orthodontics or Invisalign with a dentist at a fraction of the cost. They pepper in some pictures and testimonials to try and establish their legitimacy.
Even worse, there is an online trend of vloggers teaching people how to make their own braces out of household supplies. While the prospect of saving some money might be tempting, these DIY options come with substantial physical and financial risks.
Don't Try This at Home – DIY Braces
There is a reason that people go to dental school. Moving teeth safely and effectively is not an easy feat. It requires extensive training, proper equipment, and years of experience. Unfortunately, there is a faction of vloggers teaching dangerous methods of making DIY braces out of common items. Those who follow these techniques open themselves up to a number of risks.
Infection
Some of the materials that DIY vloggers recommend using are superglue, rubber bands, and paper clips. None of these materials are sterile or on par with the materials that dentists use. The bacteria introduced into your mouth from these objects can cause infection and periodontal disease. Additionally, improperly placed materials can lacerate your gums and leave them unable to heal due to constant irritation.
Tooth Loss
When you see a general dentist or an orthodontist for braces, they carefully plan out small, incremental movements to ensure the safety of your teeth. While spending a number of months in braces or aligners may seem inconvenient, it's the best way to ensure safe, long-lasting results. Many of these DIY options are designed to move teeth very quickly. This not only makes the teeth more likely to move back once the braces are removed, but can cause them to become loose or die in the process.
Unwanted Results
Getting braces from a dentist requires periodic checkups so that they can monitor your progress and adjust accordingly. With DIY braces, you're throwing a proverbial Hail Mary and hoping for the best. This can ultimately lead to a smile that is even worse than before. Teeth can be shifted far out of place, affecting your ability to chew or even speak properly.
Financial Burden
When things go wrong with DIY braces, they go very wrong. While you may think you'd be saving money by going through the process yourself, you may ultimately have to spend much more than the cost of braces to remedy the damage.
The dangers of DIY braces are simply too high to justify anyone trying them. You are much better off seeing a general dentist or an orthodontist to get the safe, reliable results you want. Paper clips and rubber bands are for your desk, not your mouth.
As Seen on TV – DIY Clear Aligners
There are a number of companies offering to send clear aligners directly to your home as a substitute for the clear aligner therapy you could receive from a dentist. While more hygienic than DIY braces, they pose some of the same risks.
Since your progress is not monitored by a qualified professional, your teeth may move too quickly or in the wrong way. This opens you up to tooth loss, a warped smile, and chewing and speaking problems.
The moral of the story is to always see a professional when you're thinking about straightening your teeth. Though the prospect of saving some money can be alluring, the emotional and financial burdens you may subject yourself to are simply not worth it. Visit a professional, take your time, and you'll get the smile you've always wanted.
About the Author
Dr. Ukti Phadnis loves when patients leave her office with straight, healthy smiles. A graduate of the UConn School of Dental Medicine, she is committed to learning as much about dentistry as possible. She has received extensive continuing education in numerous area of dentistry, from cosmetics to Invisalign. If you are thinking about taking the next steps towards straightening your smile, she and her team at West Hartford Dental Group are always available by email or phone at 860-606-3953.
Comments Off

on Leave It to the Professionals: The Dangers of DIY Braces
No Comments
No comments yet.
RSS feed for comments on this post.
Sorry, the comment form is closed at this time.