April 4, 2020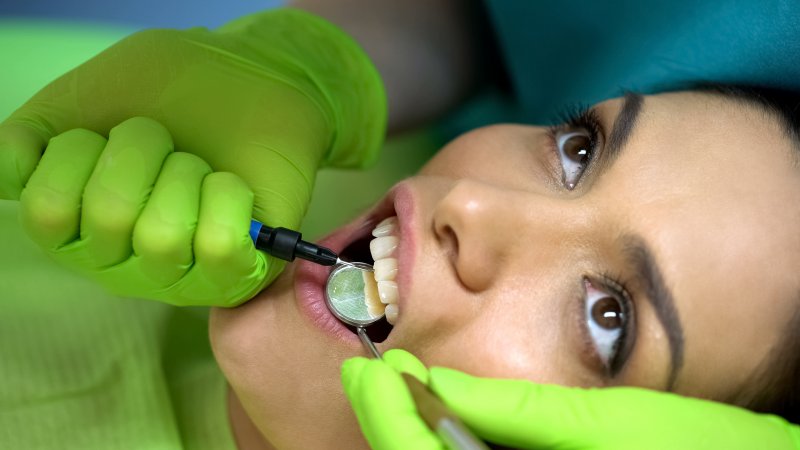 A warm, inviting smile can tell others that you're approachable and friendly. Unfortunately, even if you brush and floss every day and make regular visits to the dentist, simple things that you do routinely can put your smile at risk. The two biggest daily risks to your teeth are chipping and staining. However, a little bit of common sense can keep you smiling and save you from a trip to the dentist.
A Chip Off the Old Block
Like it or not, accidents happen. From tripping to chewing the wrong way, there are a number of simple ways to chip or break your teeth if you're not careful. Nevertheless, with some caution and foresight, you can avoid many of these risks.
Sports
If you play sports, it's important to wear a mouthguard to protect your teeth. Taking a tumble while on the field or getting hit in a contact sport can easily damage one or more teeth. While some mouthguards are available from sports retailers, a better option is to have one custom-made by a dentist. These mouthguards are specifically made for your teeth and will keep you playing at your best.
Eating
When you eat hard, crunchy foods, it's possible to bite down the wrong way and crack a tooth. Things like ice and hard candy can wear down your teeth over time and make them more prone to breaking. Even things as small as popcorn kernels can be harmful when bitten too hard. Take care to avoid hard foods as often as possible, and you'll give your teeth a fighting chance.
Personal Habits
You may have seen someone remove a bottle cap with their teeth at a party. While it may be a fun trick, misusing your teeth in such a way can have terrible effects on them. Even common things like nail biting or wearing tongue piercings can gradually wear down your enamel.
Though these tips may be simple, taking a little bit of care can greatly increase the longevity of your teeth. Protect them, avoid hard foods, use them wisely, and you'll be smiling for a long time.
Keep On Shining
By maintaining good oral hygiene habits and making regular visits to your dentist, it's possible to avoid significant staining of your teeth. However, what you eat and drink also helps to determine their shade.
Dark drinks are some of the biggest causes of tooth staining. If you are a habitual coffee, black tea, or soda drinker, your teeth will almost certainly darken and yellow over time if you aren't careful. Dentists recommend drinking through a straw when applicable and rinsing your mouth after drinking darker liquids.
Both cigarettes and chewing tobacco can greatly stain your teeth as well, not to mention their links to cancer and periodontal disease. Quitting can have a myriad of health benefits that extend beyond your smile.
A smile is a huge component of a great first impression. Having a complete, bright smile can do wonders for your confidence and composure. Although sometimes accidents happen and dental visits are unavoidable, smart choices can go a long way in preserving your smile. Follow these simple tips and live your best life.
About the Author
Dr. Ukti Phadnis takes pride in providing the absolute best for her patients. From the latest in dental technology to dynamic patient education, she makes sure that a visit to her office is as comprehensive as possible. From Invisalign to implants, she always wants to ensure that her patients leave with the best smiles they've ever had. If you'd like to learn more tips on how to maintain your smile, she and her team are always available by email or phone at 860-606-3953.
Comments Off

on Keeping it Together: Everyday Tips to Maintain Your Smile
No Comments
No comments yet.
RSS feed for comments on this post.
Sorry, the comment form is closed at this time.