February 25, 2021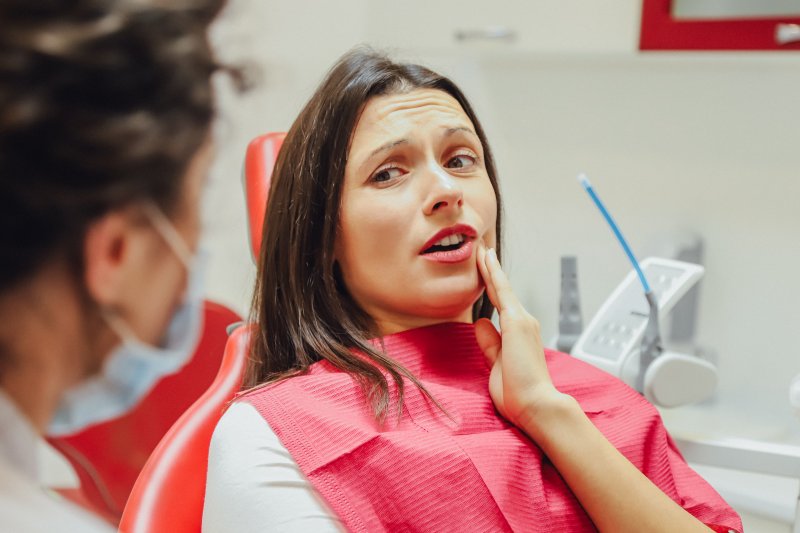 When you were a child, discovering that you had a loose tooth was an exciting milestone. However, finding a loose tooth now is scary. You know that another one isn't growing beneath it. There are many reasons why this could be happening. Fortunately, you may still be able to have it saved by your dentist, but you will need to act quickly. Continue reading to learn which steps you should be taking in order for the best possible results.
The first thing that you should do is give your dentist a call so that you can schedule an emergency visit as soon as possible. The longer you go without treatment, the more likely your tooth is to fall out completely. By receiving treatment within 12 to 24 hours, you are maximizing the probability that your dentist will be able to save your tooth.
Don't Wiggle Your Tooth
As tempting as it may be, don't wiggle your tooth around with your tongue or fingers. If you play with it, you are only going to make the issue worse. You should also avoid chewing on it because you could accidentally dislodge it or loosen it further. Even if you think that the dentist will need to extract it, you shouldn't try to do it yourself. Your dentist has a special technique in order to reduce the probability of infection.
Clean the Area
You don't want to brush your wiggly tooth, but you still want to ensure that the area is clean. Instead of brushing, rinse the area with warm water. This will help to wash away particles from the loose tooth and control the bacterial buildup in the mouth.
Eat with Care
Just because you have a loose tooth doesn't mean that you can't eat. However, you need to be careful in order to avoid further damage. Avoid chewing on that side of your mouth and stick to softer foods, like scrambled eggs, mashed potatoes, and applesauce. Stay away from sticky, chewy, and hard foods.
Don't Touch the Root
If your loose tooth ends up falling out, you should only touch it by the crown so that you don't harm the root of your tooth. Gently rinse away any dirt and debris with water and them place the tooth back into the socket. If you can't keep it there, place it in your cheek or in a glass of milk. You will need to get to the dental office within an hour for any chance of saving the tooth.
You will need to see a dentist right away if you have a loose tooth. By acting quickly, you are more likely to have your smiled restored to health!
About the Author
Dr. Ukti Phadnis earned her Doctor of Dental Medicine from the UConn School of Dental Medicine and is committed to taking continuing education courses in order to keep her knowledge and skills sharp. If you are dealing with a loose tooth, she would be happy to help. To learn more about emergency dentistry or to schedule an appointment at Dr. Phadnis' office in West Hartford, visit her website or call (860) 236-4249.
Comments Off

on What to Do If Your Adult Tooth Becomes Loose
No Comments
No comments yet.
RSS feed for comments on this post.
Sorry, the comment form is closed at this time.