July 15, 2020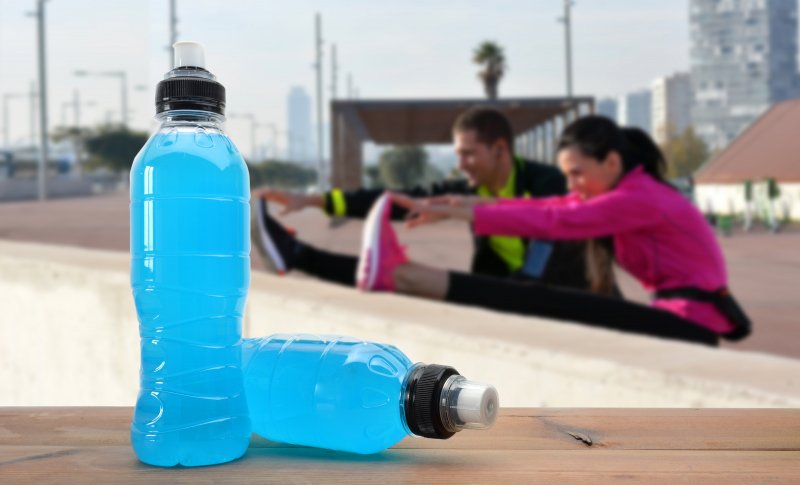 Whether it is the extra time from working from home or the realization that 2020 is already halfway over, many are taking advantage of the warmer weather to exercise outside. While staying hydrated is crucial during any workout, it is especially important during the hot summer months. Since energy and sports drinks are used by famous athletes and popular influencers alike, you may find yourself wondering if you should follow their lead or just stick to water. Fortunately, a dentist is sharing the answer, as well as four tips for staying hydrated this summer.
How Do Energy and Sports Drinks Effect Your Teeth?
While energy and sports drinks can boost your drive and replenish your body with electrolytes, they can also wreak havoc on your teeth. In fact, the British Journal of Sports Medicine found an undeniable correlation between the consumption of these beverages and poor dental health. Subsequent studies found that sports drinks can contain 14 teaspoons of sugar, which can leave your teeth vulnerable to tooth decay and cavities. Plus, the citric acid in energy drinks can eat away at the enamel on your teeth and result in a stained, discolored smile. Therefore, it benefits your oral and overall health to opt for water instead.
3 Reasons Water Reigns Supreme
Whether you are taking a morning yoga class, walking your dog in the afternoon, or going on an evening run, it is important to always keep liquids on hand to prevent dehydration. However, did you know that water can improve your workout and help you achieve your goals? Here are three reasons water is the superior option:
It can keep your joints lubricated, which protects you from injury.
It does not contain any added sugar or calories.
It prevents heat exhaustion.
4 Tips for Staying Healthy and Hydrated This Summer
Drinking water consistently during the day and throughout your workout is crucial. However, if you aren't a huge fan of water or want to incorporate other methods of staying hydrated, then make sure to:
Eat foods that are rich in electrolytes (i.e., bananas, leafy greens, etc.).
Add some fresh fruit to your water to spice up the flavor.
Snack on high-moisture foods, like watermelon.
Opt for coconut water instead of energy drinks.
In the middle of the summer, it's crucial to stay hydrated. To ensure your teeth stay in tip-top shape and don't lead to fall cavities, opt for water instead of an energy or sports drink!
About the Practice
At West Hartford Dental Group, their team distinguishes themselves from the average dental office by providing a patient-centered method of dentistry, maintaining a multi-specialty approach, and delivering world-class care. Led by Dr. Ukti Phadnis and Dr. Ajay Dhingra, each member of the staff firmly believe you deserve detailed explanations and high-quality services that result in strong, beautiful smiles. If you would like additional prevention tactics to keep your teeth in pristine condition, don't hesitate to visit their website or give them a call at 860-236-4249.
Comments Off

on Should You Use Energy and Sports Drinks to Stay Hydrated This Summer?
No Comments
No comments yet.
RSS feed for comments on this post.
Sorry, the comment form is closed at this time.